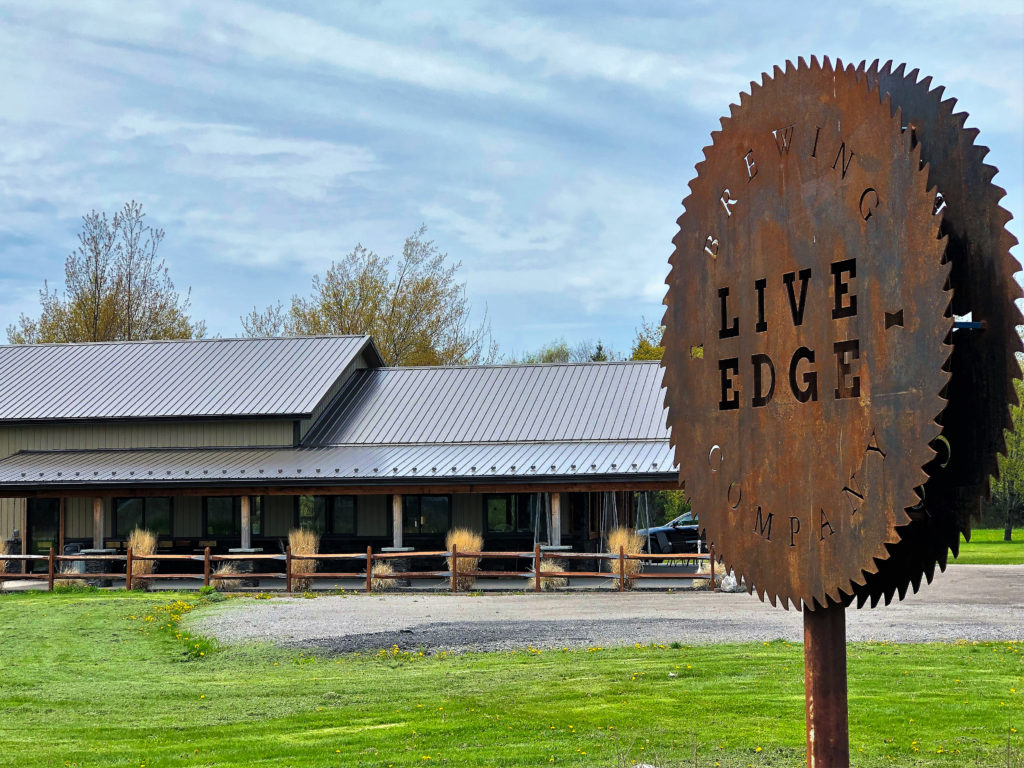 To characterize Live Edge Brewing Company as a "labor of love" would be a gross understatement. Every aspect of this Industrial Rustic Chic taproom was literally birthed at the hands (and hearts) of first time restaurateur/owners Kate & Casey Rohring, in tandem with both their talented fathers.
Upon entering the front door of the expansive gathering room, one is immediately struck by the generous woodworking – each table, chair, bench and bar, presenting a wood craftsman museum quality work of art. Wikipedia defines Live Edge as a style of woodworking whereby the craftsman incorporates the natural edge of the wood into the design. It was Kate's father who contributed his newly honed skills (pun intended) to incorporate the live edge in every direction. Look up and see the same familial talent spill over in Casey, a contractor, & Casey's fathers', original lighting art designs.

But the warm, friendly ambience is just a tease eye candy to the eats & brews. Coupled with a full service liquor and cocktail bar, Live Edge Brewing Co. offers 5 Live Edge Brewing Co. craft beers, as well as, 19 guest taps. The generous menu is laden with delicious snacks, tacos, salads sandwiches, burgers, & desserts that would make anyone salivate like Pavlov's dog before the bell… Vegetarian? No problem – Live Edge Brewing Co. offers a wide selection of Bites-to-Share, Tacos, Salads, Veggie Burgers to satisfy your palate as well.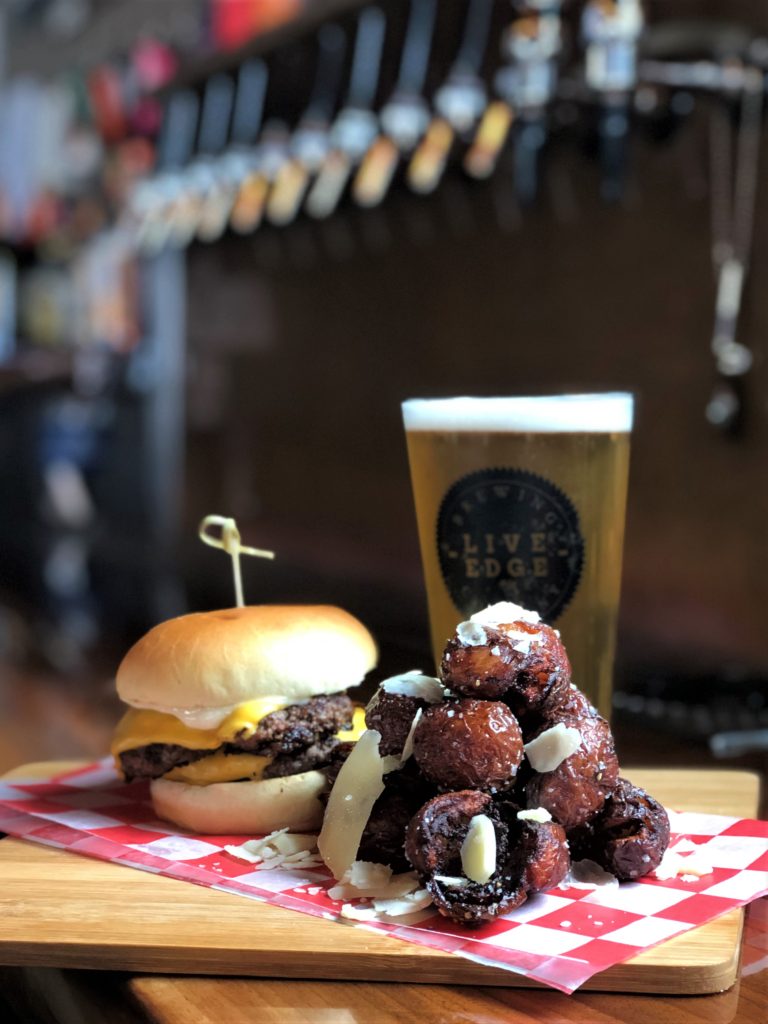 "Many of our food selections are made from scratch, and we're happy to customize off-menu to satisfy every taste" – Kate Rohring
The Live Edge Dry Hopped Blonde Ale, with a crisp, light hoppy taste and mild fruity overtone, went extremely well with my LEBC Signature Edge Burger (easily the best burger I've tasted – you go Chef Phil), however, any one of the wines or non-alcoholic beverages, could also be paired.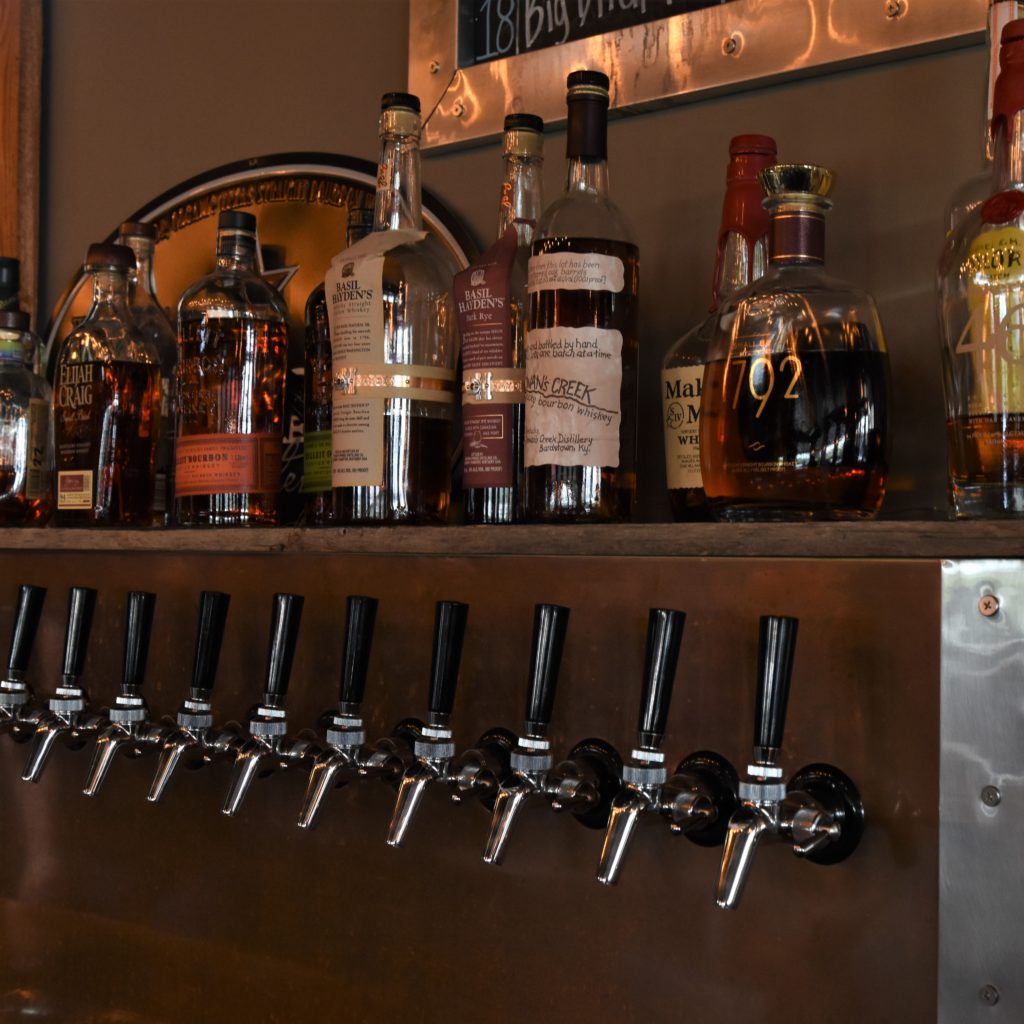 "We proudly support our local craft brewers, wineries, and serve 3rd generation locally owned Johnnie Ryan of Niagara Falls" – Kate Rohring
Jaime Hubbell, Front-of-House Manager, is passionate about creating a "unique experience" for each and every customer, be it biker, babe-in-arms, high schooler, children, or handicapped.
Live Edge Brewing Company boasts Live Bands through the week, and can accomodate "affordable" birthday, anniversary, showers, & bridal gatherings for every budget – guaranteed not to disappoint.
Jaime Hubbell

Phil Garis

As mother nature warms the picturesque Lake Ontario Shores, the Summer Yard Games heat up the fun at LEBC on their spacious grounds.

Indulge in Live Edge Brewing Co.'s delicious menu, be it, Chicken Fingers, or just a generous slice of their Homemade Cheesecake. In a hurry? Grab a Growler & Howler Beer-to-Go!
So, whether you are a frequent flyer to the area, or first time customer, come soon and come often to the "hopping" LEBC Taproom located between the Lakeshore communities of Wilson & Olcott, New York.
You will be hooked…you will be back!
Kitchen Hours
M: 3-9pm T: 3-9pm W: 3-9pm T: 3-9pm F: 11:30-11pm
S: 11:30-11pm S: 11:30-9pm

The bar will remain open while customers are still enjoying themselves